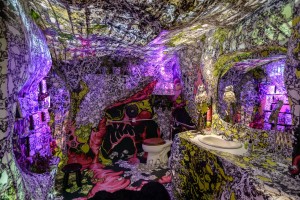 The Way Out House 2016
wood, paper, light, paint, bottles, plants, books
(photo by Nate Larson)
This installation was created with a Rauschenberg Foundation Artistic Innovation and Collaboration Award. Laure Drogoul and Amanda Burnham collaborated (in a public lavatory) as part of a Co-Lab project of the Robert Rauschenberg Foundation at School 33 Art Center in Baltimore, MD.
This work will be on view in the Art Center indefinitely.

The Way Out House is an exploration of toilet culture and digestion, The Way Out House is a transporting sanctuary of banal ritual. The two artists have  transformed the space of a typical public lavatory into a psychedelic powder chamber evoking the cyclical systems of both nature… and the Call of Nature.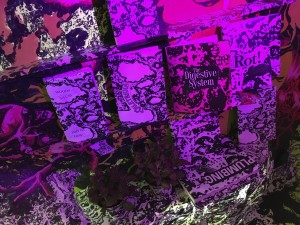 the library